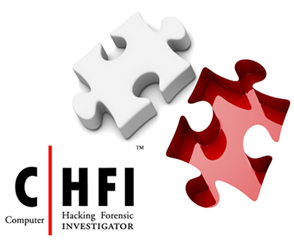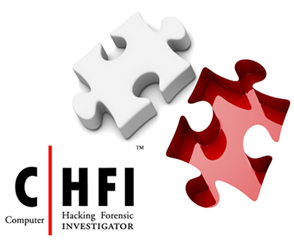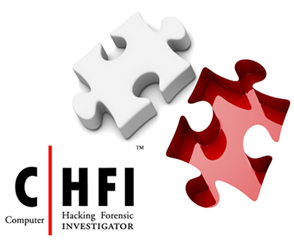 Certified Hacking Forensic Investigator
---
"Be the leader. Deserve a place in the CHFI certified elite class. Earn cutting edge skills in computer forensics"
"If you desire to acquire the knowledge or skill set to identify, track and bring the cyber criminals to justice, then this course is right choice for you"
EC-Council releases the most advanced Computer Forensic Investigation program in the world. CHFIv8 presents a detailed methodological approach to computer forensics and evidence analysis. It is a comprehensive course covering major forensic investigation scenarios that enable students to acquire hands-on experience on various forensic investigation techniques and standard tools necessary to successfully carry-out a computer forensic investigation.
Battles between corporations, governments, and countries are no longer fought using physical force. Cyber war has begun and the consequences can be seen in every day life. With the onset of sophisticated cyber-attacks, the need for advanced cyber security and investigation training is a mandate in the present day. If you or your organization requires the knowledge or skills to identify, track, and prosecute the cybercriminals, then this is the course for you. This course helps students to excel in digital evidence acquisition, handling and analysis in a forensically sound manner. Acceptable in a court of law, these skills will lead to successful prosecutions in various types of security incidents such as data breaches, corporate espionage, insider threats and other intricate cases involving computer systems.
Target Audience:
The CHFI program is designed for all IT professionals involved with information system security, computer forensics, and incident response.
Prerequisites:
It is strongly recommended that you attend the CEH class before enrolling into CHFI program
Certification:
The CHFI 312-49 exam will be conducted on the last day of training (optional). Students need to pass the online Prometric exam to receive the CHFI certification.
Exam Details:
1. Number of Questions: 150
2. Passing Score: 70%
3. Test Duration: 4 Hours
4. Test Format: Multiple Choice
5. Test Delivery: Prometric Prime / Prometric APTC / L SEP VUE
Exam Code:
1. Prometric Prime: 312-49
2. Prometric APTC: EC0-349
3. VUE: 312-49
Key features of CHfi v8:
Updated Content
CHFIv8 contains updated information including concepts, methodologies and tools.
organized Content
The well-organized content enhances the learning experience and ensures better understanding of key concepts and investigation methodologies.
Methodological Approach
CHFIv8 presents step-by-step procedures, best practices and guidelines to carry out forensic investigation.
illustration Rich
Concepts are well-illustrated to create self-explanatory slides which makes it classroom and instructor friendly.
New investigation Techniques
CHFIv8 provides in-depth knowledge of new techniques and tools used in forensic investigation to meet the toughest challenges in fighting cybercrime.
investigation tools
CHFIv8 showcases hundreds of investigation tools including EnCase, Access Data FTK, and ProDiscover.
Sample Evidence Files
CHFIv8 DVD contains a huge cache of evidence files for analysis including RAW, .dd images, video and audio files, MS Office files, systems files etc.
Visual Content Technology
Use of rich Visual Content Technology to present concepts and forensic investigation techniques.
Lab Setup
Lab setup manual provides detailed procedures to setup a lab environment complete with network environment, evidence files and other prerequisite tools.
DVD-ROM Content
CHFIv8 also provides a DVD-ROM with a repository of the around 8 GB of the latest investigation and security tools.
version Comparison
Computer Hacking Forensic Investigator courseware has undergone tremendous improvements compared to its previous versions. We have invested 4 times the effort in fundamental research and development since its last release, and have given CHFIv8 a complete makeover. The new version is a breakaway from earlier releases with more emphasis given on techniques and methodologies, which helps in the development of an advanced forensic analysis skill set. 'A picture is worth a thousand words'
and we at EC-Council have enforced the saying by using advance Visual Content technology (VCT) to explain various forensic investigation concepts. The comprehensive instructor slides
and student manual in CHFIv8 empowers the instructors with flawless flow and outstanding diagrammatic representation of the investigation techniques, which makes it easier to teach and enables students to understand the concepts.
"The CHFI Certification is L SEP an incredible asset to my company which has now a better understanding of Security issues, especially concerning vulnerability."
- Frank Chow, CHFI, Automated Systems (HK) Ltd, China.
iLabs
The iLabs is a subscription based service that allows students to log on to a virtualized remote machine running Windows 2008 Server to perform various exercises featured in the CHFIv8 Lab Guide. All you need is a web browser to connect and start experimenting. The virtual machine setup reduces the time and effort spent by instructors and partners prior to the classroom engagement. It is a hassle free service available 24/7 x number of days subscribed.
Benefits
Enables students to practice various investigation techniques in a real time and simulated environment
The course tools and programs are preloaded on the iLabs machine thereby saving productive time and effort
what will you learn?
students going through CHfi training will learn:
The computer forensic investigation process and the various legal issues involved
Evidence searching, seizing and acquisition methodologies in a legal and forensically sound manner
Different types of digital evidence, rules of evidence digital evidence digital evidence examination process, and electronic crime and digital evidence consideration by crime category.
Roles of first responder, first responder toolkit, securing and evaluation electronic crime scene, conducting preliminary interviews, documenting electronic crime scene, collecting and preserving electronic evidence, packaging and transporting electronic evidence, and reporting the crime scene.
How to set up a computer forensics lab and the tools involved in it
Various file systems and how to boot a disk
Gathering volatile and non-volatile information from Windows
Data acquisition and duplication rules, validation methods and tools required.
How to recover deleted files and deleted partitions in Windows, Mac OS X, and Linux.
The process involved in forensic investigation using Access Data FTK and EnCase
Steganography and its techniques, Steg analysis, and image file forensics
Password Cracking Concepts. Tools, types of password attacks and how to investigate password protected files.
Different typed of log capturing, log management, time synchronization, and log capturing tools
How to investigate logs, network traffic, wireless attacks, and web attacks.
How to track e-mail and investigate e-mail crimes.
Mobile forensics and mobile forensics software and hardware tools
How to write investigative reports

"The course material is up to date and very complete. It really takes you on a trip through the Security field. Each chapter has lab exercises and this makes you understand the stuff in the book much better. If you are working or want to work in the Information Security field this training is highly recommended."
Martin de Kok, Sr Security Officer, Netherlands.
Course outline version 8
CHFIv8 curriculum consists of 22 instructor-led training modules.
1. Computer Forensics in Today's World
2. Computer Forensics Investigation Process
3. Searching and Seizing Computers
4. Digital Evidence
5. First Responder Procedures
6. Computer Forensics Lab
7. Understanding Hard Disks and File Systems
8. Windows Forensics
9. Data Acquisition and Duplication
10. Recovering Deleted Files and Deleted Partitions
11. Forensics Investigation Using AccessData FTK
12. Forensics Investigation Using EnCase
13. Steganography and Image File Forensics
14. Application Password Crackers
15. Log Capturing and Event Correlation
16. Network Forensics, Investigating Logs and Investigating Network Traffic
17. Investigating Wireless Attacks
18. Investigating Web Attacks
19. Tracking Emails and Investigating Email Crimes
20. Mobile Forensics
21. Investigative Reports
22. Becoming an Expert Witness
SCHEDULE DATES
Computer Hacking Forensic Investigator
8 Hours a Day 5 Days a Week
11/05/2018 11/09/2018
$3,000.00
Computer Hacking Forensic Investigator
8 Hours a Day 5 Days a Week
01/07/2019 01/11/2019
$3,000.00
Computer Hacking Forensic Investigator
8 Hours a Day 5 Days a Week
03/04/2019 03/08/2019
$3,000.00
Computer Hacking Forensic Investigator
8 Hours a Day 5 Days a Week
04/22/2019 04/26/2019
$3,000.00
Computer Hacking Forensic Investigator

8 Hours a Day 5 Days a Week

11/05/2018

11/09/2018

$3,000.00

Computer Hacking Forensic Investigator

8 Hours a Day 5 Days a Week

01/07/2019

01/11/2019

$3,000.00

Computer Hacking Forensic Investigator

8 Hours a Day 5 Days a Week

Guaranteed

to Run (GTR)

03/04/2019

03/08/2019

$3,000.00

Computer Hacking Forensic Investigator

8 Hours a Day 5 Days a Week

Guaranteed

to Run (GTR)

04/22/2019

04/26/2019

$3,000.00
As an authorized CompTIA partner, Institute of Information Technology offers up-to-date CompTIA training and certification courses. A CompTIA certification is an international industry credential.
Institute of Information Technology is honored to be an authorized CISCO Network Academy Training Institute. CISCO is the worldwide leader in networking. CISCO has shaped the future of the internet by transforming how people connect, communicate and collaborate.
Institute of Information Technology has the honor of being an authorized EC-Council Accredited Training Center. EC-Council is the worldwide leader in Cyber Security course content. EC-Council has changed the future of the internet by transforming how people deal with and prevent cyberattack.