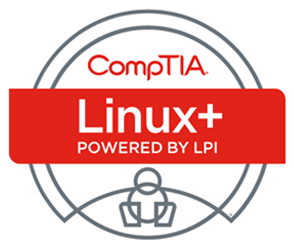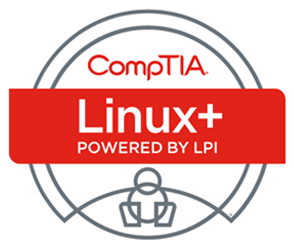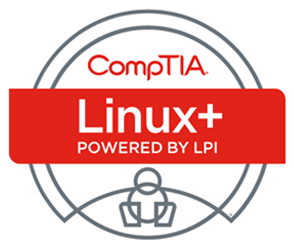 CompTIA Linux Powered By LPI
---
The CompTIA Linux+ Powered by LPI (Exams LX0-103 and LX0-104) course, developed to cover CompTIA Powered by LPI exams LX0-103 and LX0-104, builds on your existing user-level knowledge and experience with the Linux operating system to present fundamental skills and concepts that you will use on the job in any type of Linux career.
This course can benefit you in two ways. If your job duties include Linux troubleshooting, installation, or maintenance, or if you are preparing for any type of Linux-related career, it provides the background knowledge and skills you will require to be successful. In addition, it assists you if you are preparing to take the CompTIA Linux+ Powered by LPI exams (Exam Codes: LX0-103 and LX0-104), in order to become a CompTIA Linux+ Certified Professional.
Course Description:
In this course, you will administer Linux.
What you will learn:
Identify hardware commonly found in or attached to computing devices.
Identify software commonly installed on computing devices.
Set up a basic workstation.
Configure network access.
Work with files, folders, and applications.
Configure and use wireless devices.
Secure computing devices.
Support computers and users.

Target Student:
Prerequisites:
To ensure your success, we recommend you first take the following courses or have equivalent knowledge:
UNIX and Linux: Fundamentals
UNIX and Linux: Advanced User
CompTIA A+ Comprehensive Approach (Exams 220-901 and 220-902) (helpful, but not required)
Intended:
IT professional who has networking and administrative skills in Windows-based TCP/IP networks and familiarity with other operating systems, such as NetWare, Macintosh, UNIX/Linux, and OS/2, who wants to: further a career in Information Technology by acquiring a foundational knowledge of document imaging topics; prepare for the CompTIA CDIA examination or use CDIA as the foundation for specialized workflow, imaging or document storage career roles.
Course-specific Technical Requirements
Hardware
For this course, you will need one computer for each student and one for the instructor. These computers will need the following minimum hardware components:
This configuration is applicable for both Instructor and Student systems.Depending on the hard disk type (SATA, SAS, or other) and connection, the drive letter may vary. For IDE hard drives, the drive letter will start with "hd," whereas for SATA/SAS drives it will start with "sd." The instructions for the activities of this course assume the drive device will be "sda."
4 GB RAM or higher
A 64-bit 2.0 GHz processor or higher
DVD-ROM drive (Boot capable)
Generic keyboard and mouse
Sound and display cards (24-bit color, 1024x768 resolution or higher)
A Network Interface Card (NIC) for each system
Generic monitor
Primary 40 GB (or larger) hard disk
Secondary 8 GB (or larger) hard disk
Printer with USB port (optional)
A high-speed Internet connection is required for CentOS Linux Updates and Installations
The CentOS Installation DVD is also required to perform the activities in Lesson 16, and may be used to install packages throughout the course. If you are using a virtualized environment, be sure to know how to boot/reboot the system via the Installation DVD.If you are working within a virtualized environment, be sure to set up both the primary and secondary hard disks required for this course at this time. The second disk should not be used during Installation, but will be used in Lesson 3. The course assumes the primary disk is /dev/sda and the second disk is /dev/sdb.
Software
A copy of the CentOS Linux 7 Install DVD for the instructor and for each student. The ISO image for this DVD may be downloaded from www.centos.org/download/.

Course Content
Performing Basic Linux Tasks .
Identify the History and Development of Linux
Enter Shell Commands
Get Help Using Linux
Start and Stop Linux
Managing User and Group Accounts
Create User and Group Accounts
Configure User Profiles
Administer User and Group Accounts
Managing Partitions and the Linux Filesystem
Create Partitions
Navigate Through the Linux Filesystem
Manage the Filesystem
Maintain the Filesystem
Managing Files in Linux
Create and Edit Text Files
Locate Files
Search Text Using Regular Expressions
Apply Filters to Text Streams
Link Files
Back Up and Restore Files
Manage Databases Using MariaDB
Managing Linux Permissions and Ownership
Modify File and Directory Permissions
Modify Default Permissions
Modify File and Directory Ownership
Set Special Permissions and Attributes
Printing Files
Configure a Local Printer
Print Files
Configure Remote Printing
Managing Packages
Manage Packages Using RPM
Verify Packages
Upgrade Packages
Configure Repositories
Manage Packages Using YUM
Advanced Package and Application Management
Managing Kernel Services
Explore the Linux Kernel
Customize Kernel Modules
Create an initrd Image
Manage Device Drivers and Hardware Devices
Monitor Processes and Resources
Working with the Bash Shell and Shell Scripts
Perform Basic Bash Shell Operations
Write a Bash Shell Script
Customize the Bash Shell
Redirect Standard Input and Output
Use Control Statements in Shell Scripts
Managing Jobs and Processes
Manage Jobs and Background Processes
Manage Processes Using the Process Table
Delay and Detach Jobs
Schedule Jobs
Maintain the System Time
Managing System Services
Configure System Services
Monitor System Logs
Configure Security-Enhanced Linux (SELinux)
Configuring Network Services
Connect to a Network
Configure Routes
Configure Client Network Services
Manage Remote Network Systems
Configuring Basic Internet Services
Configure Email Services
Control Internet Services
Securing Linux
Implement Basic System Security
Secure User Accounts
Managing Hardware
Identify Common Hardware Components and Resources
Configure Removable Hardware
Configure Disk Quotas
Troubleshooting Linux Systems
Troubleshoot System-Based Issues
Troubleshoot Hardware Issues
Troubleshoot Network Connection and Security Issues
Installing Linux
Prepare for Installation
The Linux Boot Process
Configure GRUB
Install the Operating System
Configuring the GUI
Implement X
Customize the Display Manager
Enable Accessibility Settings in Linux
Appendix A: Mapping Course Content to the CompTIA® Linux+™ Powered by LPI (Exams LX0-103 and LX0-104) Exam Objectives
Appendix B: Syntax
Appendix C: Additional Security Topics
SCHEDULE DATES
CompTIA Linux+ Powered by LPI
5 Hours a Day 5 Days a Week
11/05/2018 11/15/2018
$2,000.00
CompTIA Linux+ Powered by LPI
5 Hours a Day 5 Days a Week
01/14/2019 01/24/2019
$2,000.00
CompTIA Linux+ Powered by LPI
5 Days
03/04/2019 03/12/2019
$2,000.00
CompTIA Linux+ Powered by LPI

5 Hours a Day 5 Days a Week

Guaranteed

to Run (GTR)

11/05/2018

11/15/2018

$2,000.00

Enroll Now

CompTIA Linux+ Powered by LPI

5 Hours a Day 5 Days a Week

Guaranteed

to Run (GTR)

01/14/2019

01/24/2019

$2,000.00

Enroll Now

CompTIA Linux+ Powered by LPI

5 Days

Guaranteed

to Run (GTR)

03/04/2019

03/12/2019

$2,000.00

Enroll Now
As an authorized CompTIA partner, Institute of Information Technology offers up-to-date CompTIA training and certification courses. A CompTIA certification is an international industry credential.
Institute of Information Technology is honored to be an authorized CISCO Network Academy Training Institute. CISCO is the worldwide leader in networking. CISCO has shaped the future of the internet by transforming how people connect, communicate and collaborate.
Institute of Information Technology has the honor of being an authorized EC-Council Accredited Training Center. EC-Council is the worldwide leader in Cyber Security course content. EC-Council has changed the future of the internet by transforming how people deal with and prevent cyberattack.