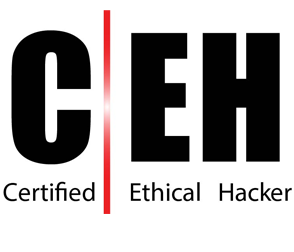 CERTIFIED ETHICAL HACKER
---
The Certified Ethical Hacker program is the most desired information security training program any information security professional will ever want to be in. To master the hacking technologies, you will need to become one, but an ethical one! The accredited course provides the advanced hacking tools and techniques used by hackers and information security professionals alike to break into an organization. As we put it, "To beat a hacker, you need to think like a hacker"
This course will immerse you into the Hacker Mindset so that you will be able to defend against future attacks. The security mindset in any organization must not be limited to the silos of a certain vendor, technologies or pieces of equipment.
This ethical hacking course puts you in the driver's seat of a hands-on environment with a systematic process. Here, you will be exposed to an entirely different way of achieving optimal information security posture in their organization; by hacking it! You will scan, test, hack and secure your own systems. You will be taught the five phases of ethical hacking and the ways to approach your target and succeed at breaking in every time! The five phases include Reconnaissance, Gaining Access, Enumeration, Maintaining Access, and covering your tracks.
The Most Comprehensive Ethical Hacking Course in the World
This is the worlds most advanced certified ethical hacking course with 20 of the most current security domains any individual will ever want to know when they are planning to beef up the information security posture of their organization. In 20 comprehensive modules, the course covers 340 attack technologies, commonly used by hackers.
About the Program
Our security experts have designed over 140 labs which mimic real time scenarios in the course to help you "live" through an attack as if it were real and provide you with access to over 2200 commonly used hacking tools to immerse you into the hacker world.
As "a picture tells a thousand words", our developers have all this and more for you in over 1685 graphically rich, specially designed slides to help you grasp complex security concepts in depth which will be presented to you in a 5 day hands on class by our Certified EC-Council Instructor.
The goal of this course is to help you master an ethical hacking methodology that can be used in a penetration testing or ethical hacking situation. You walk out the door with ethical hacking skills that are highly in demand, as well as the internationally recognized Certified Ethical Hacker certification! This course prepares you for EC-Council Certified Ethical Hacker exam 312-50.
Course Outline
What is New in CEH Version 10 Course
Module 01: Introduction to Ethical Hacking
Module 02: Footprinting and Reconnaissance
Module 03: Scanning Networks
Module 04: Enumeration
Module 05: Vulnerability Analysis
Module 06: System Hacking
Module 07: Malware Threats
Module 08: Sniffing
Module 09: Social Engineering
Module 10: Denial-of-Service
Module 11: Session Hijacking
Module 12: Evading IDS, Firewalls, and Honeypots
Module 13: Hacking Web Servers
Module 14: Hacking Web Applications
Module 15: SQL Injection
Module 16: Hacking Wireless Networks
Module 17: Hacking Mobile Platforms
Module 18: IoT Hacking
Module 19: Cloud Computing
Module 20: Cryptography
Who Is It For?
The Certified Ethical Hacking training course will significantly benefit security officers, auditors, security professionals, site administrators, and anyone who is concerned about the integrity of the network infrastructure.
Duration: 5 Days (9:00 AM – 5:00 PM)
Eligibility Criteria:
In order to be eligible to attempt EC-Council CEH, certification examination, candidate may opt to:
Attend Official Training:
If a candidate have completed an official EC-Council training either at an Accredited Training Center, via the iClass platform, or at an approved academic institution, the candidate is eligible to attempt the relevant EC-Council exam without going through the application process.
Attempt Exam without Official Training:
In order to be considered for the EC-Council CEH exam without attending official training, candidate must have at least 2 years of work experience in the Information Security domain and remit a non-refundable eligibility application fee of USD 100.00 along with their application form.
TESTIMONIALS
At first, I joined the institute of information Technology in the hope of getting a good, high-paying job. However, I could never imagine what this school would do for me in the course of a couple of months. I had a highly professional instructor who also works at Google. This is one of the best choices I ever made in my life. And it led me to a $70 an hour job. I am extremely grateful to the staff of this wonderful school.
Charnkiat Sukpanichnant
Software Automation Engineer
The instructors are awesome and very helpful in explaining and showing the courses! They are willing to take the extra step to make sure that you are prepared to pass the exam at no extra cost! I wish my college professor were like this! I am definitely coming back to get my future certifications from here!
Irving Maldonado
CompTIA A+ & Network+ Bootcamp
Need Training?
EC-Council's Official delivery platform includes your study material, iLabs (virtual labs) and gives you the most flexible options for training to fit your busy work schedule!
SCHEDULE DATES
Certified Ethical Hacker (CEH)
8 Hours a Day 5 Days a Week
11/05/2018 11/09/2018
$3,000.00
Certified Ethical Hacker (CEH)
8 Hours a Day 5 Days a Week
01/14/2019 01/18/2019
$3,000.00
Certified Ethical Hacker (CEH)
8 Hours a Day 5 Days a Week
02/04/2019 02/08/2019
$3,000.00
Certified Ethical Hacker (CEH)
8 Hours a Day 5 Days a Week
03/04/2019 03/08/2019
$3,000.00
Certified Ethical Hacker (CEH)

8 Hours a Day 5 Days a Week

11/05/2018

11/09/2018

$3,000.00

Certified Ethical Hacker (CEH)

8 Hours a Day 5 Days a Week

01/14/2019

01/18/2019

$3,000.00

Certified Ethical Hacker (CEH)

8 Hours a Day 5 Days a Week

Guaranteed

to Run (GTR)

02/04/2019

02/08/2019

$3,000.00

Certified Ethical Hacker (CEH)

8 Hours a Day 5 Days a Week

Guaranteed

to Run (GTR)

03/04/2019

03/08/2019

$3,000.00
FREQUENTLY ASKED QUESTIONS
Can I pursue self-study and attempt the exam instead of attending formal training?
Isn't this knowledge harmful? Why do you make it available so easily to the public?
Aren't tools meant for script kiddies?
Do reformed hackers teach your course?
The answer is yes. You must show 2 years of work experience in security related field. You must also submit a CEH exam eligibility application and obtain an authorization from EC-Council before you can attempt the exam
EC-Council fulfills its social responsibility by ensuring that only persons with a minimum of two years of security related experience are eligible for the course. In addition, all candidates are required to sign an agreement where they agree to respect the knowledge acquired and not misuse it in any way. The candidate also agrees to abide by all legal laws of their respective countries of residence in the use of thus acquired knowledge. Besides the CEH exam is a tough one to pass as students must have in-depth knowledge to achieve the globally recognized ethical hacking certification.
Does it matter if an elite hacker writes a buffer overflow or a script kiddy runs a tool if the target system gets compromised anyway? The point here is that the enemy may be intellectually great or small, but he/she requires just one port of entry to wreck damage while the organization has the entire perimeter to guard with limited time and resources.
EC-Council places great emphasis on the quality of its instructors. A 17-year-old will not be teaching security to professionals at our accredited training centers. Certainly, experience is the greatest teacher. However, EC-Council adheres to a code of ethics and encourages security professionals with significant years of teaching experience in the industry and a security background to handle our security related courses.
As an authorized CompTIA partner, Institute of Information Technology offers up-to-date CompTIA training and certification courses. A CompTIA certification is an international industry credential.
Institute of Information Technology is honored to be an authorized CISCO Network Academy Training Institute. CISCO is the worldwide leader in networking. CISCO has shaped the future of the internet by transforming how people connect, communicate and collaborate.
Institute of Information Technology has the honor of being an authorized EC-Council Accredited Training Center. EC-Council is the worldwide leader in Cyber Security course content. EC-Council has changed the future of the internet by transforming how people deal with and prevent cyberattack.